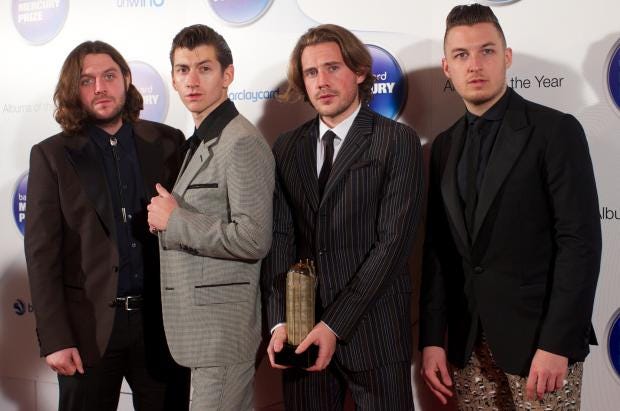 In recent years they have mocked the music industry's corporate shindig or simply refused to turn up. But Arctic Monkeys have now agreed to open the 2014 Brit Awards with a live performance.
The Sheffield group and Katy Perry were confirmed as the first acts who have agreed to perform at the Brits, broadcast live by ITV, next February.
Arctic Monkeys refused to attend the 2006 Brits, where they won the Breakthrough act. In 2007 they sent a mocking video message dressed as characters from the Wizard of Oz.
When they did accept an award in person in 2008, they dressed as country squires and delivered a sarcastic acceptance speech which was drowned out by the organizers.
Their decision to finally make peace with the Brits reflects the band's acceptance that they have become the UK's pre-eminent rock band following a triumphant Glastonbury headlining performance. The chance to play live before a potential audience of 10 million ITV viewers was also too good to refuse.
Christian Tattersfield, Brits chairman, said: "It took a lot of wining and dining on behalf of the Brits but it was my absolute priority to get Arctic Monkeys to perform. It has been their year. It helps that the Brit Awards is now seen as a credible event and is no longer the shambles it was four or five years ago."
Arctic Monkeys are inching towards the music establishment. They made "huge inroads in the US" with their latest album AM, Tattersfield said, a process which required the indie-rockers to perform industry duties, like meeting and greeting radio executives, without compromising their ideals.
Although the UK music industry continues to struggle with the transition to a digital future, the Brits showcase attracted its highest viewing figures for a decade last year.
But Tatters field admitted that whilst the 34 year-old event has attained a new level of slickness, it has been accused of becoming too dull. "We needed to stop the mayhem but we want some more excitement this year," he said.
Presenter James Corden, in his final year as host, will be let off the leash. "When I sat down with James he felt he wanted one more shot. He wanted to go out with a bang.
"He wants to put in a performance as host that creates the excitement we all talk about. We're saying to James 'Go for it – let's all have some fun'."
For the first time in almost three decades, it appears that there will be no million-album-selling artist in the UK in 2013. But download singles are thriving, along with views of videos on platforms such as YouTube and Vevo.
The Brits committee is considering introducing a new Video of the Year award and raising the profile of the Single of the Year honour. But Mr Tattersfield, the outgoing co-CEO of Warner Music UK, said the album remains the industry's "gold standard".
"You had better make a stunning album these days because it's so easy to buy a single track download. But if Adele had released an album in the last three months we'd be talking about that. If an album is compelling, people will buy it."
The biggest US stars are now open to appearing at the Brits because viewing figures have risen and the show is more professional. Taylor Swift, Lady Gaga and Miley Cyrus are all possibles for next year's event.
"There are a lot of huge superstars available," Mr Tattersfield said, adding that "Miley Cyrus is definitely in the mix."
The Wrecking Ball star could replicate her controversial "twerking" performance. "I'd be very happy for Miley to do whatever performance she sees fit to do. No-one's flagged any twerking controversy with me. We're definitely not in the business of censoring artists," Tattersfield said.
The organisers are also promising a "very cool collaboration" between two leading artists. This year the Brits statues have been styled by hat designer to the stars, Philip Treacy.
Last year the show was seen by 8 million ITV viewers and the Brits committee wants to increase that figure to 10 million.
A decision will be announced on whether the Outstanding Achievement in Music prize, rested last year, will return. The recipient must be "a British legend. Not just someone who has had a few hits over 20 years," said the Chairman, who pledged to deliver the "biggest and best ever awards".