A footage shared on facebook by one, Uchechi shows members of the Redeemed Christian Church of God(RCCG) Kneel and worshiping
Pastor Adeboye's chair in the church, and it has attracted several reaction, with 56k plus views, 1.3k shares and over 4k comments,
In the video, The members were seen 'idolating', bowing and worshiping the chair which according to A Facebook user, Uchechi Nwigwe, was allegedly used by the General Overseer,
Enoch Adeboye.
See below;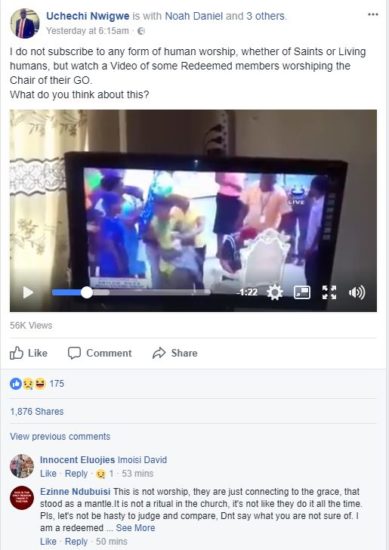 Thank You For Choosing Our Platform


We offer best music, events, business ads, fashion, educational promotional service across the glob.

Kindly follow us on Twitter:@Brainy_Ent|

IG @Brainyworldent.
Follow us at Google+

Our Music Promotion is Express » Clean » Classic » Dope » Well Packaged » And Very Cheap Call/WhatsApp

09092400934 or call 07086686114


BBM Pin: D8D9DBBD
CONTACT US : 07086686114, 08103149662

BBM CHANNEL: C004AE7A4 or C004DA69E
Gaposaolofofo.com.ng
Video Below;